Shopping Cart
Your Cart is Empty
Thank you for your business!
You should be receiving an order confirmation from Paypal shortly.
Exit Shopping Cart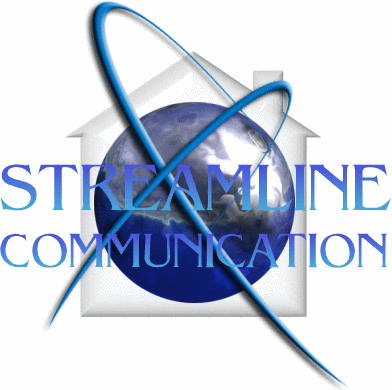 STREAMLINE COMMUNICATION OF DENVER, COLORADO
Audio, Video, Structured Cabling, Video Surveillance, Prewire, New Build, Home Theater, TV, Wall Mount
As home cinema technology continues to get more advanced, the possibility of having a home theater starts to sound more tempting to increasing numbers of home owners. Why pay outrageous prices for popcorn and bad hot dogs while listening to children cry throughout the film, when you can do it all from the comfort of your own home?
Enjoy the richness of surround sound and vibrant, high-definition television visuals with a custom home theater. Each system is uniquely defined by your interior décor design and audio/visual priorities, such as enjoying your gaming system or stereophonic music. Once you experience a well-tuned home theater system, it's hard to settle for anything less. Here are some things to consider when planning your home theater system.
Like most people, you might have your television/DVD system in one place, gaming in another, and your music in yet another location. With a home theater system, you can unify your entertainment systems in one media room, with spectacular visuals and audio!
Creating a home theater system provides added value to your property investment, enhances your lifestyle and makes your home more appealing to friends and family. Affordability is key and financing options are easier than ever, so don't be intimidated by the intricacies of creating a brand-new system or integrating new and old components for maximum performance. At Performance Audio, you can get help at every level from your personal audio/video specialist, who will assess what you want and create a system to meet those needs.
Your home theater design can be subtle and innocuous or pop with energy and color! Whether you're looking to upgrade one room or the whole house, a home theater will be as comfortable and user-friendly as possible. Performance Audio also helps eliminate those messy tangles of wires and cords, by hiding the wiring in walls and ceilings whenever possible
Options to consider for your home theater system include
Blackout and programmable shades

Lighting

Screen size and location

Seating arrangements and types of chairs

Security

Soundproofing

Speakers
Once you've selected the electronics and equipment that works best for you, it's time to get everything in place! Your audio/video professional will install the theater system so it minimizes eyestrain and the discomfort of strained necks.
The specialist will measure your home to ensure the best location of TV screens and speakers. Usually, components will be placed at least eight inches from the wall to allow for necessary ventilation and servicing, especially receivers, which create the most heat.
Proactive people put service and support plans in place before they're needed, to shorten "down" time and ensure their new system stays in tip-top shape. Some support and service options you may consider include:
24/7 response

Home networking solutions

Internet security

Onsite tech service

Unlimited online, telephone and in-store support
We Carry the Best Home Theater Brands
Your electronic equipment comes with manufacturer warranties from some of the leaders in home theater system technology. Some of the brands we carry are::
Elite by Pioneer

Epson

JVC Professional

Kaleidescape

Oppo

Panasonic

Samsung

Sony ES

Sony XBR

LG

Savant

If you're considering updating or integrating a music, audio or theater system, consult with a Performance Audio professional today. For 20 years, we've provided experienced sales and service throughout the Denver area! We want to bring excitement into your home, with a customized home theater system.
mount installers, home theater installation service, flat tv wall installations, tv wall mount installers, flat screen tv wall installation plasma and lcd hd installers, installation, lcd, plasma, hdav television, plasma tv install, plasma tv install, wall mount installation, lcd installer, lcd installation, plasma installation, lcd tv installation, home theater, tv installer. tv installers, tv installation, bose lcd tv installer, plasma tv installer, home theater installer, home theater installation,souround sound, sony lcd tv installer, samsung lcd tv installer, toshiba lcd tv installer,sharp lcd tv installer, vizio lcd tv installer, sony plasma tv installer, samsung plasma tv installer, toshiba plasma tv installer, vizio plasma tv installer, sharp plasma tv installer, surround sound installation, speaker installation, omnimount installation23, 27, 32, 37, 40, 42, 46, 50, 52, 55, 60, TV MOUNT, TV BRACKET, , FLAT PANEL, HOME THEATER, PROJETOR, LCD PROJECTOR, DLP, DLP PROJECTOR ,LCD ARTICULATING WALL MOUNT, LCD TV WALL MOUNT BRACKET, SWIVEL, VESA LCD WALL MOUNT, LCD WALL MOUNT ARM, UNIVERSAL LCD WALL MOUNT, DUAL ARM LCD WALL MOUNT, LEVEL MOUNT, TV INSTALL, LCD PLASMA INSTALLATION , , NEW LCD WALL MOUNT, USED LCD WALL MOUNT, HOME THEATER EQUIPMENT, LCD MOUNT, PLASMA MOUNT, AV Installation Home theater instillation. Home Theater Media room Surround Sound System 5.1 7.1, HDMI DVI Component HDTV Off Air Antenna plasma, lcd, tv, installation, plasma installers, plasma tv installers, lcd tv installers, lcd tv installation, plasma wall mount, lcd wall mount, tv installation company, lcd tv mount, lcd tv wall mounted , lcd tv wall mounted, plasma tv wall mounted, home theater installation, home theater installations, home theater wiring, speaker wiring, 5.1 wiring, universal remote programming, logitech universal remote programming, logitech harmony universal remote programming,
/